Stud Fee via Live Cover: $1,000 LFG, Plus daily board and vet expense as required. Requires current negative cytology/culture, vaccines and negative Coggins.

Stud Fee via AI: $1,000 LFG, plus all veterinary expenses to include hauling the stallion to vet for collection, collection, extension and shipment. I can recommend two veterinary services with the ability to collect and ship. All arrangements are made by the mare owner who contracts directly with the Vet.
This is the long-awaited linebred cross of Dick Nelsen's Primavera lines of Gay Vaquero and Valdez with Ab Cross' H-Ken. H-Ken was all cow horse, born in Dubois, Wyoming, on the Cross Ranch. As a weanling he was sold to Reed Allen of Wyoming as payment for an old war debt. After 14 years there, he went to Colorado Springs with the Bruhn family, then to North Hero, VT, at age 20. Polly Smith bred her Gay Enchantress (a Gay Vaquero daughter) to Ken, and LBF Gay Enchantment (aka Mandy) was the offspring. Primavera Brio on Mandy has given us Vaquero. There are very few horses now with this much of Dick and Phyllis Nelsen's Primavera lines.

Vaquero was five years old August 2008. He was started by John and kept in training as a reiner with Mark Wilcher for 18 months. He won the five year old snaffle bit/hackamore class at the 2008 Grand National and placed in two other classes. John is trying to build an old time "royal cow pony" that can rein, rope, and cut so that he can team pen and team rope all on a foundation bred Morgan who happens to also be an eyeful of horse. John describes Vaquero as steady, biddable, soft but an "energizer bunny" when it comes to endurance, bottom, heart and try. John says he is cat quick which is no surprise given how coupled he is in structure.

Vaquero is 100% Foundation Morgan breeding.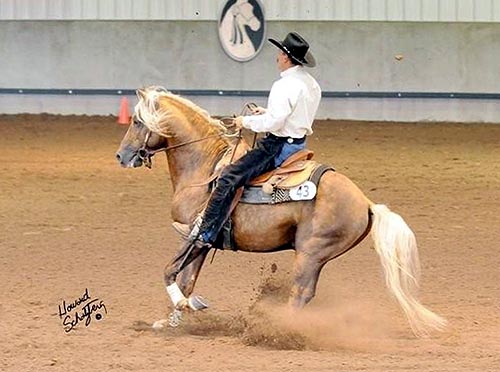 Vaquero, shown at the 2008 Grand National ridden by Mark Wilcher (photo by Howard Schatzberg).

Below you will find a list of the 32 horses on the right side of Vaquero's five generation pedigree, and the number of generations they trace to Justin Morgan (JM) and principle sires the line passes through. You will find remarkably that 21 out of 32 of these sirelines pass through the US Government foundation stallion General Gates. Also, listed for each of these 32 horses are the generations for the tail female (tf) line.


1)Ro Mac - Gen Gates - jm15
tf Bossie Gordon - jm15
2)Oh Cee's Gift - Peters Ethan Allen 2d -jm17
tf Atkins m- Sherman -jm11
3)Ro Mac - Gen Gates - jm15
tf Bossie Gordon - jm15
4)Gay Berta - Gen Gates - jm15
tf Bossie Gordon -Octoroon -jm16
5)Mahan Field - Gen Gates -jm15
tf Topsy - Octoroon - jm17
6)Palomesa-Morrill-jm18
tf Nellie Gordon -Octoroon- JM17
7)Gay Mac - Gen Gates-jm14
tf Lamb M - Young Benedict Morill-Bulrush-jm15
8)Roberta Ro -Gen Gates-jm14
tf Bossie Gordon jm15
9)Orcland Leader - Gen Gates - JM15
tf Milkingstool-James Clark m/Sherman - jm15
10)Lady Field - Gen Gates - JM14
tf Wyman Kimball m - flying Morgan -Woodbury-JM16
11)Devan Cap - Gen Gates - Jm16
tf Flint m - Black Hawk - jm16
12)Flyella - Pathfinder Jr - JM16
tf Silver Heels - Woodwards Ethan Allen jm14
13)Agazizz - Daniel Lambert - JM16
tf Daisy - Atkins m -jm15
14)Knora Knox - Knox Morgan - JM14
tf Healey m - Billy Root - JM15
15)Firestone - Gen Gates -jm17
tf Eula LU mare - son of Dan Patch
16)Milaca Belle - Gen Gates -jm17
tf Bess Franklin - Shedd m - Bulrush - JM18
17)Fleetfield -Gen Gates -jm16
tf Lamb M - Young Benedict Morill-Bulrush-jm15
18)Cherye- Gen Gates - jm16
tf Lady Morgan - Black Hawk - jm15
19)Fleetfield -Gen Gates -jm16
tf Lamb M - Young Benedict Morill-Bulrush-jm15
20)Loretta - Daniel Lambert - jm15
tf Lady Morgan - Black Hawk - jm15
21)Flyhawk - Pathfinder jr - jm15
tf Daisy-Atkns m - jm14
22)Sentola - Daniel Lambert -jm14
tf Daisy-Atkns m - jm14
23)Glider - Daniel Lambert - jm15
tf Daisy - Atkins m - jm15
24)Dora - Daniel Lambert -jm15
tf Cross ranch mare
25)Ro Mac - Gen Gates - jm15
tf Bossie Gordon - jm15
26)Oh Cee's Gift - Peters Ethan Allen 2d -jm17
tf Atkins m- Sherman -jm11
27)Gay Mac - Gen Gates-jm14
tf Lamb M - Young Benedict Morill-Bulrush-jm15
28)Roberta Ro -Gen Gates-jm14
tf Bossie Gordon jm15
29)Californio - Gen Gates -JM17
tf Bossie Gordon -Octoroon-Woodbury jm18
30)Re-Wind of Sundown - Gen Gates jm17
tf Lulu Girl -Octoroon-Woodbury- jm18
31)Rex Linsley - Gen Gates Jm15
tf Double Daisy -Atkins m-Sherman - jm12
32)Apache Maid - Daniel Lambert JM17
tf Jennie-Billy King-Woodbury - jm16
GAB CREEK GOLDEN VAQUERO
PKR Primavera Brio
Primavera Valdez
Primavera Vaquero

Vaquero Mac

Panzarita Ro
Tia Margarita
Tio Lalo
Gay Berta

Rose Hill LaPapillon

Dee-Cee Traveler
Deerfield Challenger
Cap's Comette
HD Waltz of Angels
Hylee's Cinnabar
Town's Gay Sallie

LBF Gay Enchantment

H-Ken
Kenfield
Speedfield
Lora Lie
Muchacha
Warhawk
Secora

LBF Gay Enchantress

Gay Vaquero
Vaquero Mac
Gay Berta
Primavera Ramona
Juan Bravo
El-Mira Rexanne

Vaquero's Photo Gallery
(click on any photo to enlarge)








Vaquero's Offspring

| | |
| --- | --- |
| | GAB CREEK SIMEON SPRINGER, colt, foaled Aug 13, 2014 (Gab Creek Golden Vaquero x Gab Creek Gay Mashanta) |
| | |
| --- | --- |
| GAB CREEK JIM BUCK, colt, foaled May 24, 2019 (Gab Creek Golden Vaquero x Gab Creek Golden Halo) | |