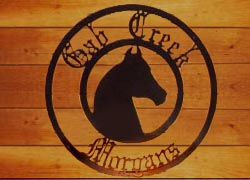 GAB CREEK TIO MORO
(PKR Primavera Brio x Althea Moro)
2007 chestnut sabino gelding, 100% Foundation Morgan


Full brother to Gab Creek Motilla (see Brio Offspring on Brio's page). Timmy's dam Althea Moro is a mare of real substance, exceptional bone and short cannons. Lots of people talk about how many crosses their horses have to Jubilee King, but few have him top and bottom on the actual registration paper as Althea does. The concentrated Brunk breeding in Primavera Brio has nicked with the Jubilee King blood in Althea Moro to throw an exceptional colt of stallion quality. He has the frame to be a successful hunter or jumper.

Tio Moro has the size and length of neck of his sire and like Brio, is a big strided, smooth mover. He was started by me, spent 120 days in reining fundamentals with Mark Wilcher in Louisiana, and 5 months with Chris Howell in Georgia, on cattle. Timmy is ready to go into the "two rein" .



GAB CREEK TIO MORO
PKR Primavera Brio
Primavera Valdez
Primavera Vaquero
Vaquero Mac
Panzarita Ro
Tia Margarita
Tio Lalo
Gay Berta
Rose Hill LaPapillon
Dee-Cee Traveler
Deerfield Challenger
Cap's Com-ette
HD-L Waltz of Angels
Hylee's Cinnabar
Towne's Gay Sallie
Althea Moro
Cameron of Quietude
Criterion
Jubilee's Courage
Lippitt Robrita
Super-Rey Movita
Superson
Muscovia
Misty Morning Dew
Westridge Ashley Moro
Stillwater Indigo
Lippitt Sally
Jasmine of Quietude
Criterion
Super-Rey Movita

Timmy's Photo Gallery


(click on any picture to enlarge)





© 2003-2015 Gab Creek Farm, LLC. All contents of site is property of Gab Creek Farm, LLC unless otherwise indicated.