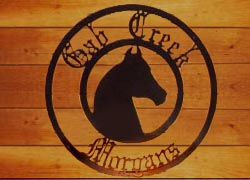 John Hutcheson has had his hands on a horse for more than 50 years. He enjoys starting stud colts, and has taken on a number of outside horses over the years.

VIDEOS AND ARTICLES BY JOHN




Riding in the hackamore


Click here to read John's feature in the "Morgan Elders" column, by Suzy Lucine (TMH April/May 2022)

Click here to read an article on the Cloud Peak Wilderness and Pryor Mountain

Click here to see a video of John showing how to tie the $450 knot

Click here to read an article by John on training the bridle horse

Click here to read the article "Dean of the Living Vaqueros" by Brenda Tippin, Introduction by John Hutcheson

Click here to read an article by John on horse wrecks

Click here to read an article by John on Morgans in Endurance (THE MORGAN HORSE magazine, September 2019).

Click here to read a very important article about skeletal maturation in horses

Click here to read about John's adventure on a cattle drive with Jo Johnson


The happiest hours of my life have been with horses as they are such good judges of character. Like soldiers, they recognize good leadership when they see it... and they can size you up quickly. One of my favorite sayings is: "The Horse Knows IF You Know".

As a youngster I was an exercise rider in an operation that had 200-300 sale horses. I saw some ways that I knew then were wrong and have evolved in my own journey over the years to a place where I think I have developed a real affinity for the horse. Like Tom Dorrance, I think of myself as the Horse's "attorney". It has been my privilege to know some fine "horsemen" and I use that word versus "trainer" because I have seen too many of the snatch and jerk "30 days and lets go show". To me training a horse is like painting the inside of an aircraft hangar with an art brush, one stroke at a time so we don't leave any holes... not a stroke here and then one on the other end of the hangar, not once over lightly with a spray gun, but a carefully considered, deliberate effort made with patience and consideration of the horse and how his mind works.

There are so many clinicians today and I think it is good, as otherwise, many horses would have been resold or gone to a dog food can, but I don't like the crass commercialism that goes with so much of it. When I came along I was shown things "as a matter of honor". My approach has evolved to be "eclectic". There are lots of tools in my tool box now and there is more than one way to get in the house besides the front door. And I will try to help you "as a matter of honor" but only if you ask me and you really want my help.

No one knows it all and I have always picked up something new whenever I was around a good horseman. Please let me tell you that many of the greatest horsemen are unknown to the public. Let me give credit to some: Mac Abercrombie, who trained the first mules to go down into the Grand Canyon for the Harvey Mule Co. and took me under his wing when he was 63 and I was 13 years old; Al Grandchamp, the master horseman and personal friend of Chick Williamson and Ed Connell, coached me until he passed away at 103. Richard Caldwell, the master horseman, now deceased left us with four extraordinary videos. Ray Ordway who was Richard's inspiration. Mike Bridges, Martin Black, Jeff Sanders, Bob King, Frank Barnett, Jack Brainard, Bob Hoverson, Mark Wilcher, Jo Johnson and Brad Jewett. There are literally thousands of videos to watch nowadays and hundreds of clinics you could attend but let me at least recommend some sources you might not have seen otherwise:

*Breaking and Training the Stock Horse by the great Charles O. Williamson
*Practical Western Training by Dave Jones
*Hackamore Reinsman, *Reinsman of the West, and *Vaquero Style Horsemanship by the master Ed Connell
*The Complete Training of Horse and Rider by Alois Podhajsky
*If I Were to Train a Horse by Jack Brainard

| | |
| --- | --- |
| | Gab Creek Currahee (Primavera Brio x Longstreet Serenata), a 2002 palomino stallion who was sold to Kevin Noll and Alice Ridgway of Northfield CT. Trained by John. Shown here in a screen capture from video, Curry is being taught to slide stop wearing only a halter for a headstall. |

| | |
| --- | --- |
| Gab Creek Currahee again, learning to stand hobbled with one foot up. | |

| | |
| --- | --- |
| | Curry ground driving. |

| | |
| --- | --- |
| "When visitors meet Gab Creek Currahee (a.k.a. Curry), his looks are what everyone notices first. His shiny, golden coat is striking. The comments then quickly switch to his confident and curious temperament. Curry came to us already trained using natural horsemanship courtesy of John's tall frame and gentle manner. With me at only 5'2", the opportunity for Curry to test our relationship was always possible, but he never tried. Instead we continued using natural horsemanship techniques and now I only bother with tack if I'm leaving the farm. Curry jumps and does figure eights with just a hay bale string around his neck. His ground manners make everyone, including adults with developmental disabilities, immediately calm and secure. What a gift!' -Alice Ridgway | |

| | |
| --- | --- |
| | The next three pictures illustrate "The Charles O. Williamson method of starting a colt". Pictured is Gab Creek Motilla (PKR Primavera Brio x Althea Moro), a 2005 palomino stallion sold to Bill and Susan Visi. |

| | |
| --- | --- |
| Krila's Sombrita (Chalk Mtn Sunny Mac X Buckhorn Betsy), 2003 black mare owned by Bill and Susan Visi. Started under saddle by John in 2007. | |

| | |
| --- | --- |
| | "Shanta was afraid of a trailer when we brought her home. Jo Johnson came to visit and I had read about putting a platform just behind the trailer and teaching the horse to walk over it, step on and off, back on and off, right next to the trailer...work away from the trailer and offer a rest when they stepped on. Finally we opened the door and trained her to load and unload on a cue, then pulled well forward and trained her to load and unload without the platform. Jo and I took turns until we got it done. It was tremendously satisfying." - John Hutcheson |

| | |
| --- | --- |
| "To say that I have enjoyed purchasing my first horse from Gab Creek Farm is an understatement. After taking several months of riding lessons on a well broke Quarter horse, I was a little apprehensive about my first ride on my green broke three year old Morgan filly I had purchased from Gab Creek. To my delight, she was not only safe and very sensible, but very soft in the bridle! She was very willing to trot over a scary blue tarp and step over obstacles as we made our way around the arena and through the cone pattern. She did, however, appreciate a pat on the neck after she complied. John has done an excellent job with her initial training and I am truly thankful that we found Gab Creek Farm. It has been a very positive experience and helped me achieve my life long goal of having my very own Morgan horse." -Susan Visi, owner of Gab Creek Carmen | |

| | |
| --- | --- |
| | "What a beautiful, big, sweet girl! I have to brag too that when I got on her the first evening at home to ride, the top half of a pine tree came crashing down just on the other side of the fence from the pasture (in the woods). We could see the tree coming down and it was loud, and all she did was look at it as it fell. She hardly flinched and didn't move a foot! That's a lot to say for a horse newly started under saddle! Boy, what a demonstration of the Morgan breed right there! Two weeks later we went out with Becky on the trails back behind our house late evening. For her first time out here, she was AMAZING! She really knows how to drop her back end to go down the hills, and is very calm and steady with everything. She'll be the trail queen." - Melissa Starr, owner of Gab Creek Golden Halo |

"I came to Gab Creek Farm for help because even though Sky had been imprinted at birth, had quickly learned her ground lessons, and was very easy to green break, she had no confidence when I took her out alone. Once she got scared or excited she wouldn't listen to my cues at all and would back up, crow hop or side step which was very scary! I would end up bailing off of her to get her back under control before one of us got hurt! I knew I would get nowhere with her under saddle training if I didn't get help in getting through this phase.

When I first arrived at Gab Creek Farm my tack was evaluated and John explained to me why my mechanical hackamore would not help make my horse more manageable or soft. After all, we all know we cannot out power a horse. John introduced Sky to a true "Hackamore" and helped me procure a quality one for her. Using what I would call Natural Horsemanship techniques, John showed me how, through consistency and repetition, one can condition the horse's mind to


immediately and consistently respond to your cues regardless of the situation. I was taught ways to ride through her panic attacks without having to bail off, which made me a more confident rider. This in turn transformed Sky into a more confident horse, which is exactly what we both needed. In just several hours a day of trying out the new methods of communicating with my horse in a round pen and then on the trail Sky made tremendous progress! I know with consistency and putting in the time using these new techniques I was taught at Gab Creek Farm, Sky and I will enjoy many years of pleasurable trail riding together! Thanks! -Francine Weaver, Dahlonega, Georgia
© 2003-2023 Gab Creek Farm, LLC. All contents of site is property of Gab Creek Farm, LLC unless otherwise indicated.