October 10, 2016- Simeon Springer (Gab Creek Golden Vaquero x Gab Creek Gay Mashanta) at age two (remember Hutch is 6"4")


June 21, 2016- Here are two good examples of the get of PKR Primavera Brio. Out of two different mares. But the Brio stamp is obvious. The first clip is Pisgah's Melody Rose (PKR Primavera Brio x Meadowlark Mayday) a foundation bred horse. The second clip is Gab Creek Golden Vaquero (PKR Primavera Brio X LBF Gay Enchantment) a foundation, line bred Primavera. The rider in both clips is Henry Fleming who is a superb trainer and takes a few outside horses each year (www.harmonycross.com). Hope you enjoy these!

September 19, 2015- Will James is in the pasture. His survival is a miracle. Especially when you consider that in the annals of veterinary medicine, to the best of our collective knowledge, he is the only known completely contracted, at birth, foal to survive.

It took five days of drugs and traction to get the legs straightened out....then we had the really nasty pressure sores to deal with (for three months after)....and at the same time, septicemia......then seizures.... then colic. I expected him to die for three weeks while he was on IV antibiotics and fed thru a nasogastric tube.... but he didn't die and then it was all rehab....teaching him to stand and nurse....to drink from a pail...to walk assisted….to walk unassisted...at least a dozen different braces and cast set ups ...hundreds of sessions of leg wrapping at UGA and on the farm. The 4th year vet students named him Forest (aka Forest Gump and the scene where he runs out of the braces). He was 3 months old on Sept 8th and is now going unsupported to the pasture. I did not believe I would ever live to see this. His knees are good....right front hoof is turned out a bit below the fetlock but he seldom knuckles over on that one. Left foot is correct but he knuckles over now and then on it. Yet, he can trot and lope and cavort and play and land very sure footed. I have seen him run for 300 yds.

Many thanks to Dr. Ken Marcella for his moral support and encouragement. He says "tendon laxity is uncharted waters." I can't help but believe that as he grows and muscle forms on his legs....which is happening.....that his brain will develop "muscle memory" to land that foot where it belongs ....ALL THE TIME !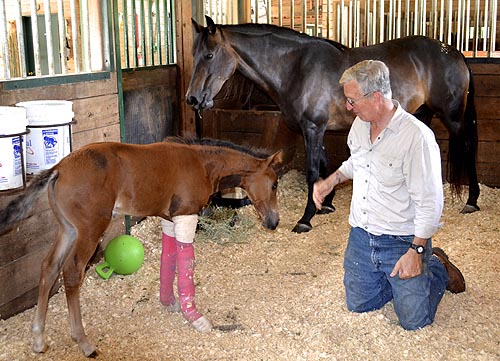 August 3, 2015- After 7 weeks in Intensive Care at the University of Georgia's Large Animal Vet Clinic, Will James spent his first night at Gab Creek Farm last night. Hutch has his hands full with continued care, but the prognosis is positive.

July 11, 2015- For those who saw pictures on Facebook of a very pregnant Morgan mare named Nancy, who was due on 17 June, she did in fact deliver but a bit early on 8 June at 2:30 a.m. It was a difficult birth as the foal had both front legs "contracted" like a closed pocket knife. It was inutero not congenital. It was a miracle she delivered and there was nothing I could do to help her. The foal had a suck reflex but I could only extend the legs to a 45 degree angle, so there was no way he could stand and nurse. "Will James" has been at UGA Teaching hospital ever since.


June 2015- The 2008 dark chestnut Brio daughter Pisgahs Melody Rose (out of ML Meadowlark May Day) owned by Henry Fleming. Ruth Shaw reports: "She is simply a marvelous mare, and everyone who meets her wants to own her". Ruth is on the full Lambert, Quietude Mandolin, who is now ten.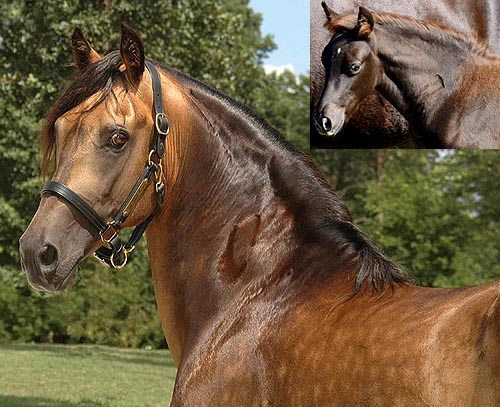 October 2014- At two months it is already evident that Simeon Springer has the potential to be much like his grandsire. Another picture of him at age 2 months can be found at the bottom of Vaquero's page.



This is Gab Creek Simeon Springer, colt, foaled Aug 13, 2014, (Gab Creek Golden Vaquero x Gab Creek Gay Mashanta). He is ¾ his grandfather, PKR Primavera Brio, as he is by a Brio son out of Brio's full sister. He is three months old now and more pics to follow soon. Simeon Springer was a black man of character I knew as a child.

July 2014- This is a snap shot at the KY Horse Park this spring when I went to watch William Fox Pitt win the ROLEX 3 Day Event. He is an amazing athlete, as is Bay My Heart. While going back and forth between the FEI reining and the 3 Day, I went thru the museum and wound up at the Morgan Statue. There is no mistaking Morgan type whether in a statue or in a breathing creature. Back at the farm, Brio's full sister, Shanta, in foal to the Brio son, Gab Creek Golden Vaquero, is due the first week of August. The Brio daughter Gab Creek Carmen (aka Nancy) is here on loan from Bill and Susan Visi to be bred to Vaquero. I am very greatful to Bill and Susan who are committed to perpetuating the extraordinary blood Nancy, a maiden mare, now 10 years old, carries. Gab Creek Rosado (aka Rosie) and Gab Creek Azucar Maroon (aka Sugar) are also approaching that age and I am looking for the right stallion for them (they are Brio daughters and full sisters to Vaquero). Tio Moro (aka Timmy) is excelling as a cutting horse. Will try to get some current pictures of him. It is amazing how he can move on a cow even at his height of 15.1. He got the best of Brio and that Lambert blood from Althea Moro. Have my fingers crossed for California Chrome at the Belmont.



Having you Military folks there-wearing your caps-was an emotional, very special part of the day for me. Working with the wounded coming home and seeing the positive changes in them through the Horses for Heroes program has been awesome. My prayer is that the feelings and encouragements and honoring they/you experienced at McKeever's will give everyone a long term boost as all re-enter or continue their lives here. I have said, I don't see how you all go through and see what you do and come home to folks who can't fathom your experiences and try to relate. Blessings, Deenie McKeever



March 28, 2014- This is Althea getting ready at the farm to be one of the horses in the upcoming McKEEVER'S FIRST RIDE http://www.mckeeversfirstride.com on April 5th at Lawrenceville, Georgia, at the 6th annual OPAF Adaptive Riding Clinic, at Gwinnett County Fairgrounds. Amputees, users of Orthotic devices & Military Personnel of ALL ages are invited to this cost-free event that introduces guests to the healing spirit of the horse. Guest Celebrity - Reggie Showers. This rain or shine Event will offer: Riding, Carriage rides, Roping, Horse handling, Mini horses, Gentle Horsemanship workshop, Teen Events and Caregivers Corner Live music by Templeton Thompson. Event Sponsored in part by ABC and ottobock.



This is Sandblaster a Brio son owned by Susan Suber of South Carolina. John started him in November.....did the ground training ....put four rides on him and then hauled him in December to Mark Wilcher in Louisiana for 120 days of riding . Blaster is a half brother to Soldier. Sugar was with Mark for 120 days and came home with John in December. Timmy and Rosie were with Mark for 120 days before that and are now home as well. Rosie has had two months with Chris Howell on cattle and will be going back again in February.

Shanta is in foal to Vaquero. It has been five years since there was a foal on Gab Creek Farm. She is due in August 2014. Looking forward to team sorting this spring using Rosie.



Comes Traveler and his master ( Lee ),
. . . Such horses are
The jewels of the horseman's hands and thighs,
They go by the word and hardly need the rein.
They bred such horses in Virginia then,
Horses that were remembered after death
And buried not so far from Christian ground . . .
---Stephen Vincent Benet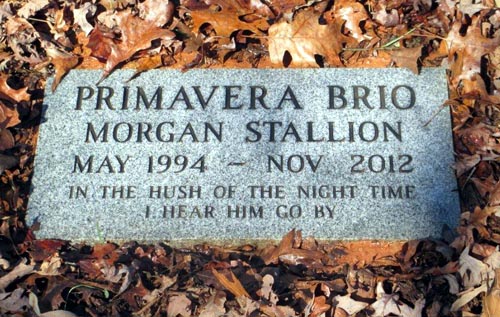 Brio is buried about a quarter mile from my mother. He will certainly be remembered…. as the horse of my lifetime….and maybe that of several others. He left nearly thirty offspring and as of his death there is a son and two grand get in Australia.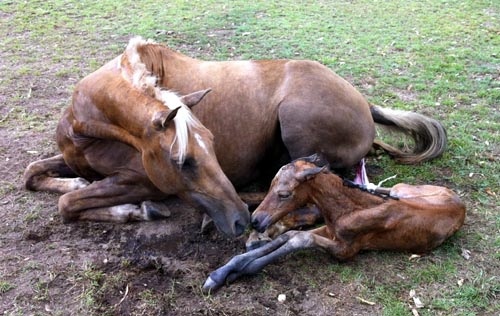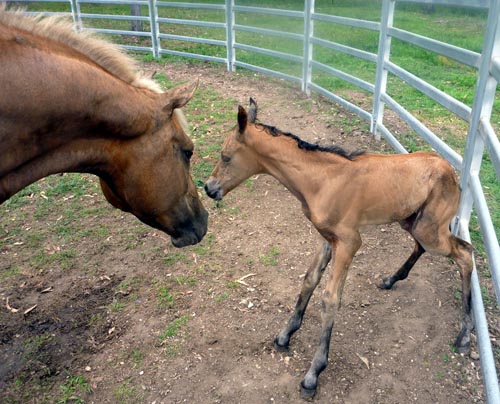 Brio's first granddaughter in Australia was foaled December 8, 2012. Sired by Wirraway's Trademark (PKR Primavera Brio x Fox Brush Custom Design), the buckskin filly is out of a palomino 1/2 Morgan mare, Boomtown Texas. The Aussies prize their part breds as the Arab folks here do Half-Arabs. Boomtown Texas is an accomplished performance mare in her own right- she was the 2010 High Point Champion for Morgan Versatility! (here's her link)


"Becky" (PKR Primavera Brio x Longstreet Serenata) is progressing nicely as a jumper with Melissa Starr. Melissa reports: "She has incredible natural talent with jumping and is starting to really get comfortable with her feet (she's suppling up and getting pretty good at lateral work). We're planning on heading down to Ocala in February with Imti (my trainer) to train with him (he sets up camp down there for the entire month of February)." Additional videos of Melissa and Becky are available on YouTube here and here.

March 2012- Pictured with Mary Ann Schafer is the Brio son, "Briki", in Australia who is now 15.1+ at 4 years of age. This is the same horse you can see at the archives tab coming off the trailer as a foal after his trans Pacific flight more than three years ago. Mary Ann, who owned his dam, "Dream" is down under again on her third visit. John says the colt is 'Brio in a different color....just look at that big eye'.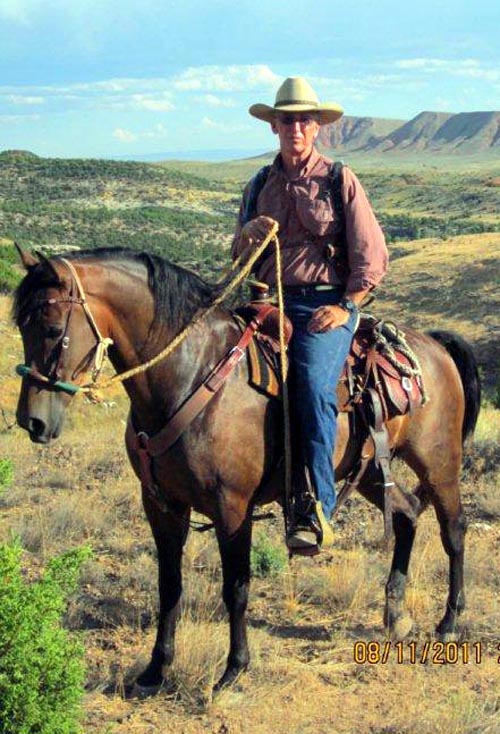 The following is the lead in for a feature article for the March 2012 issue of The Morgan Horse Magazine that will detail John's 40 day adventure in six remote regions of the western states in August-September 2011:

My sister is fond of saying: "if there isn't a near death experience involved, John is not interested." On this 40 day loop through Wyoming, Colorado and New Mexico, I rode out a true run-a-way, incited by a large buffalo bull in Nebraska. I met my shadow really hard when a large Angus bull jumped out of a patch of weeds up on the Paint Rock in Wyoming (a flashback for the horse to the buffalo I am sure). In the Teton Wilderness under Yellowstone a sow grizzly and her triplets ran the horses out of camp. I was armed with a plastic water filter. Traveling alone at 12,000 feet on the alpine spine of Rocky Mountain National Park, I experienced severe weather and near hypothermia. At Valle Vidal, NM, I survived a wreck when the colt I was ponying through a narrow gate in a stock pen set back hard. And I walked away from a prairie dog induced horse fall where my leg was pinned under the horse. I came through all that, in my opinion because of the saneness and toughness of two Morgan horses.


Saturday Jan 29, 2011, Gab Creek Farm hosted an Ed Dabney clinic and a trail ride on the occasion of John's Birthday. A perfect weather day for late January. See the video clips on the new Facebook page for Gab Creek Farm. (top picture- Soldier and John; bottom picture, John and Soldier and Melissa Starr and Gab Creek Golden Halo, aka "Becky")



Gab Creek Golden Halo aka "Becky" (PKR Primavera Brio x Longstreet Serenata) with her owner Melissa Starr at their first ever Dressage Show, Saturday, Oct 23, 2010, at Chicopee Woods in Gainesville, GA. Melissa just started to really "ride" Becky in May and is thrilled with the results (3d and 4th in the two Intro Level Tests). Melissa says "She also had such a lovely, calm, and willing attitude all day. What a nice girl!"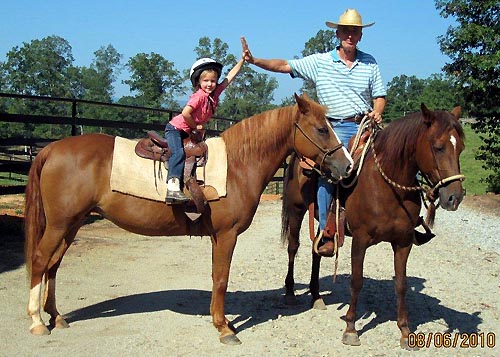 August 2010- Anna Myles Mosely, age 5 finishes her August ride on Althea Moro. Anna is named for my 1st cousin Anna Mosely who died of acute Leukemia in the prime of her life. Is there anything I would not give this child?



July 11, 2010- Kim Talley and Vaquero try out a little dressage. This is a reining horse but Mark Wilcher has all the parts trained and ready to execute the dressage elements.



June 2010- Morgan Pierce visits Gab Creek Farm: 7 year old Morgan traded in her motorized chair for a ride on Gab Creek Gay Mashanta. Left to right: Forest Sentinella, LBF Gay Enchantment, Brent Pierce, Morgan's sister Hannah, Amy Pierce holding Morgan, Shanta, and John Hutcheson. Morgan is looking forward to her next visit!



June 2010- This is Gab Creek Golden Halo (PKR Primavera Brio x Longstreet Serenata), a buckskin mare owned by Melissa Starr, during her first jumping lesson. Melissa says "I'm so impressed with Becky and how she's progressed in the 2 years since I bought her from Gab Creek Farm. One of the nicest, most well-balanced/solid horses I've ever been on. A big extended trot and an awesome uphill canter with the smarts to complete the package! I can't say enough about how nice of babies Primavera Brio produces and the quality of horses coming out of Gab Creek Farm!" Melissa has a beautiful 2010 gray part Morgan daughter of Brio as well, and she is looking forward to the day when she has TWO Brio daughters to ride :-)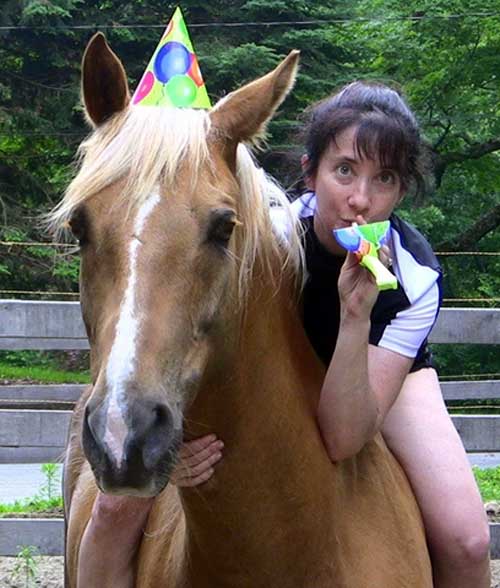 JUNE 2010- Gab Creek Currahee (PKR Primavera Brio x Serenata) at his 10th Birthday Party with owner, Alice Ridgway in CT. He is much loved -what more could we ask for? John still misses him though.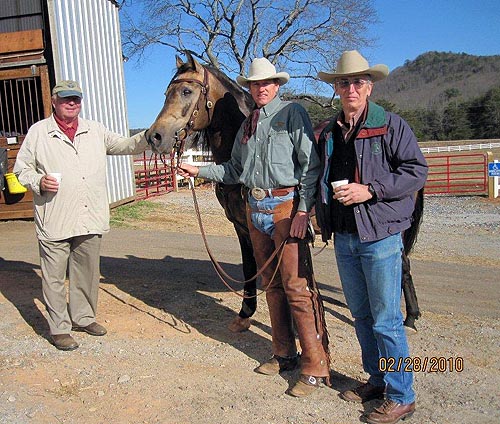 Feb 28, 2010: Ed Dabney with Tom Poulin at a dressage clinic in North Georgia. Ed was riding PKR Primavera Brio, a Morgan horse stallion for Col John M. Hutcheson, Dahlonega, GA. Good coaches are invaluable in any sport. Ed Dabney is a good friend with some serious ability and John asked him to ride Brio. Ed reports: "I learned a lot and had lots of fun riding your great horse. I would love to see him really developed. Wow! He could really be something. He definitely has the intelligence and ability plus he is such a handsome fellow! Maybe we can work with him together at your place more in the future. I'll let you know next time I have some free time and can come by to work with you on your classical riding."



February 12, 2010: "Busman's Holiday: Well it wasn't the "Cloud Peak" (fall 2008) because I wasn't wet and froze near to death.....in fact I was warm AND dry. But it was a rare winter wonderland in Georgia. I got the urge about 4 p.m. and went and called Soldier, the seven year old Brio son, up out of the pasture and young Tio Moro "Timmy" came with him so I said "well, you can come along, too!" I just ponied him along for a ride on this "Robert Frost" evening. These Morgans mature slowly. The bay is seven and the chestnut colt is not yet three. But they have the same sire so you only have to use your imagination for a vision of how the young colt will turn out. Most important of all is that he have a good disposition and be tractable.

"What breed of horse do you suppose Mr. Frost had in mind in "Stopping By Woods on a Snowy Evening" when he penned the words:

"my *little horse* must think it queer
to stop without a farm house near,
between the woods and frozen lake
this darkest evening of the year."

"Remember he was a New Englander.....three guesses ??"

January 2010: TRIBUTE TO A HORSEMAN- Mr. Mac Claude Abercrombie, Sr. lived in Phoenix, Arizona, in the early 1900s, training mules to go down into the Grand Canyon for the Harvey Mule Company. He returned to Douglas County, Georgia to the Mule business and served more than twenty years as the county sheriff. Colonel John M. Hutcheson honors his mentor on this new website: Mr. Mac's Barn



Juli Thorsen had a good article recently about the influence grandparents can have on the future of horses. Our generation, the baby boomers, loved horses so we grew up to breed them and there has been a generational shift with generation x that isn't as interested as we were. For many reasons there is a glut of horses right now. What will the future hold? Juli says grandparents are pivotal to introduce the third generation to the love of the horse. This is five year old Libby Lou McMahan, back in October, on Althea Moro for her first horse experience. She has no fear and was not alarmed at trotting. When she came to visit again at Christmas she was a broken record... "Grandpa, can we go ride now?" We rode cross country for three miles and she wanted more. Maybe Juli is onto something.

January 2010: Over the years I have had horses do all sorts of strange things with fences....under, over and through. Twelve years ago I discovered Centaur and have extricated one mare out from under it with not a scratch on her, have taken it down to let a stud out of it (half in and half out) without him being hurt and have had all sorts of incidents where a horse kicked into it. I have never experienced a serious injury with this product. Here is my latest adventure:

Centaur Fence Testimonial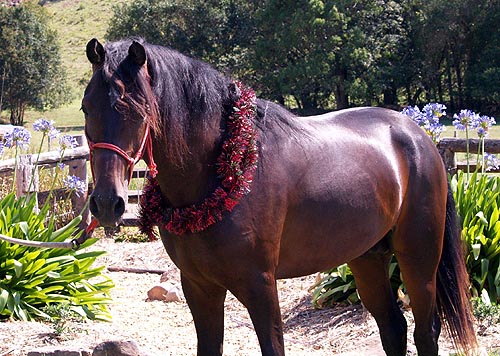 Merry Christmas from "the land down under" from Wirraway's Trademark (aka Briki), the son of PKR Primavera Brio out of a Funquest Erick daughter (aka Riki....ala, "Briki"). Briki was shipped to Australia with his mom as a foal, went 14h at 12 months and is only 21 months in this photo (foaled Mar 24, 2008). Mary Ann Schafer who is just back from visiting him reports: "He also hasn't gone thru an uneven growth spurt, hasn't been hind end tall or anything, he grows evenly front and rear. What I love best is the soft eye. Kind and intelligent and a hunk!" This colt is already creating quite a buzz down under.



It is always good to receive positive feed back on a horse John started.

"I rode with Georgia Ladies Aside in the Old Soldier's Day Parade in Alpharetta yesterday on Becky and it went tremendously well. She amazes me over and over again at what an amazing horse she is. There were only 3 of us in our group (both of the other horses are veteran parade horses- both of which rode side saddle in the inauguration parade this year). The parade was HUGE (approx. 100 entries - we were #84)! She took in all of the sites very well with minimal spooking (mostly at the noisy motorcycles and bicycles - they're just not right!). Out of all of the parade entries, there was only one entry that shot off guns and 2 with animals (us and a pair of camels 2 spots back from us pulling a wagon). And of course, where did they put the 15 "sons of the Confederate" with their guns they shot off every time there was a big crowd? You got it, right in front of us. They gave us no warning the first time they fired them off and they were LOUD. Romeo, one of the veteran horses, spun around and tried to take off, meanwhile Becky just flinched and got progressively better as the parade went (once she understood they weren't going to hurt her). She was awesome! You'd think she was a veteran parade horse!


So anyway, it was great. We spent almost 2 hours in the line up waiting for it to start and then the parade route itself was almost an hour long. Was really big and was in honor of all soldiers who have fought in any wars. Was great to see them all out there in their dress uniforms along the parade route. They would salute us as we went by. Huge turnout and was just a blast. Was great to hear all of the little girls along the way screaming for the horses too!

Here's to a great start of hopefully many more fun parades with Becky!"

-Melissa Starr, Alpharetta, GA



Fall 2009: Nashboro Belanna Gold has a new home! Congratulations to Ginger Krause!! Ginger writes, "I am having such a wonderful time getting to know her better, and though I admire her beauty, she has such a sweetness about her and the spark of individuality despite her maturity. She is wonderful to ride. She stands so well for grooming and my fooling with her, I just lay the lead rope over the fence and there she stays until I ask her to move! what a delight! I take every opportunity to scratch her neck and ears before, during and after I put on her halter or bridle and she really seems to appreciate the special care. I put fuzzy covers on her halter and bridle and that seems to relax her that she does not feel the leather and webbing right up against her. I call her my little angel. Thank you again for letting me have the opportunity to have her with me."



Fall 2009- Mary Ann Schafer is enroute to Australia to see Wirraway's Trademark (pictured above at his first show in May 2009), the Brio son that was shipped down there as a foal. This colt is out of a Funquest Erick daughter and went 14h at 12 months. He is already creating quite a buzz down under. We will be posting more pictures as Mary Ann sends them to us. Stay tuned :-)
October 2009- Pryor Mountain Wild Horse Update

September 2009- Click here to read an update on the Pryor Mountain wild horses.

Fall 2008- Click here to read John's account of his August 2008 packing trip out west (Word format). This article was published, along with several of John's photos of the trip, in The Morgan Horse magazine.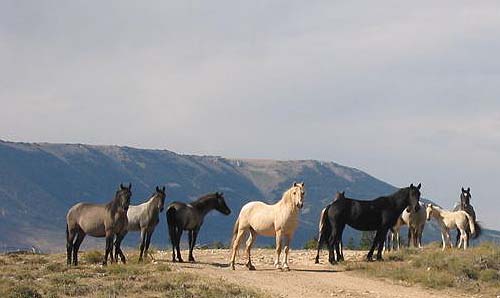 Cloud the Wild Stallion of PBS fame with his band. Photographed by John Hutcheson on Pryor Mountain in September 2008 while mounted on one of his Morgan mares. See the full article here (published in the Jan/Feb 2009 issue of THE MORGAN HORSE magazine). John trailered his two mares alone from Georgia to Wyoming and Montana and back, some 6,000 miles, rode in four wilderness areas, and spent two days among the wild mustangs on top of Pryor Mountain. All the photographs from his treks can be viewed by clicking on the button at left marked "Morgans As Stock Horses" and then clicking on the buttons marked "here" in the text of the first paragraph of that page.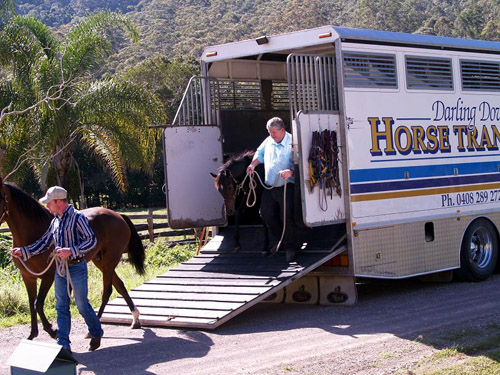 September 30, 2008- Dianne Burgess Howard, of Queensland, Australia reports her Brio Baby Wirraway Trademark (Primavera Brio x Fox Brush Custom Design (aka Rikki Tiki Tavi) (Funquest Erick x Bowood Elusiv Dream by Appleton Town Crier by Kingston) has arrived.


Diane says: "MaryAnn (Schafer) ­ they are beautiful! He's gorgeous and so confident". Both photos by Diane Howard.